How could environmental data start to influence when and where people go for their outdoor activities?
During the minor Interface and User Experience Design I have worked, as a part of Team Hopscotch, on a project for the Dutch agency CLEVER°FRANKE. Against the backdrop of globalization, cities are increasingly challenged to maintain sustainable economic development and a livable urban environment that ensures quality of life for its inhabitants.
Whether big or small, it will be 'smart cities' making the difference in the future. Part of these smart cities will be sensor networks that continuously monitor the quality of the environment. The goal of our assignment was to design how environmental data could influence when and where people go for their outdoor activities. This case study I will explain the the process and my role in it.
How could environmental data influence workouts?
An essential part of the process was the research phase. To tackle this complicated challenge we used various methodes to get to know the context and the audience. We spoke with experts from different kinds of organizations en we interviewed sport app users. To validate our insights we conducted desk- and literature research. All these events led to insights which we formulated in Insight Cards.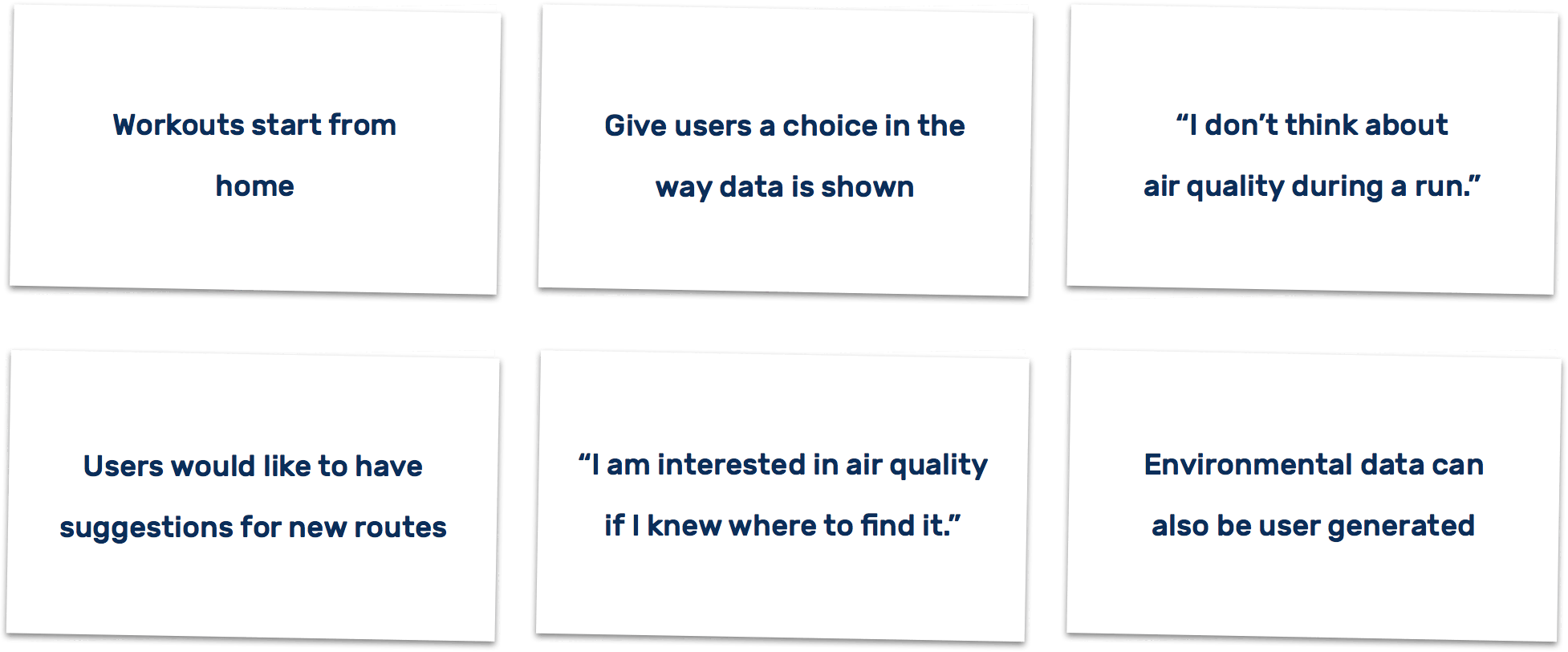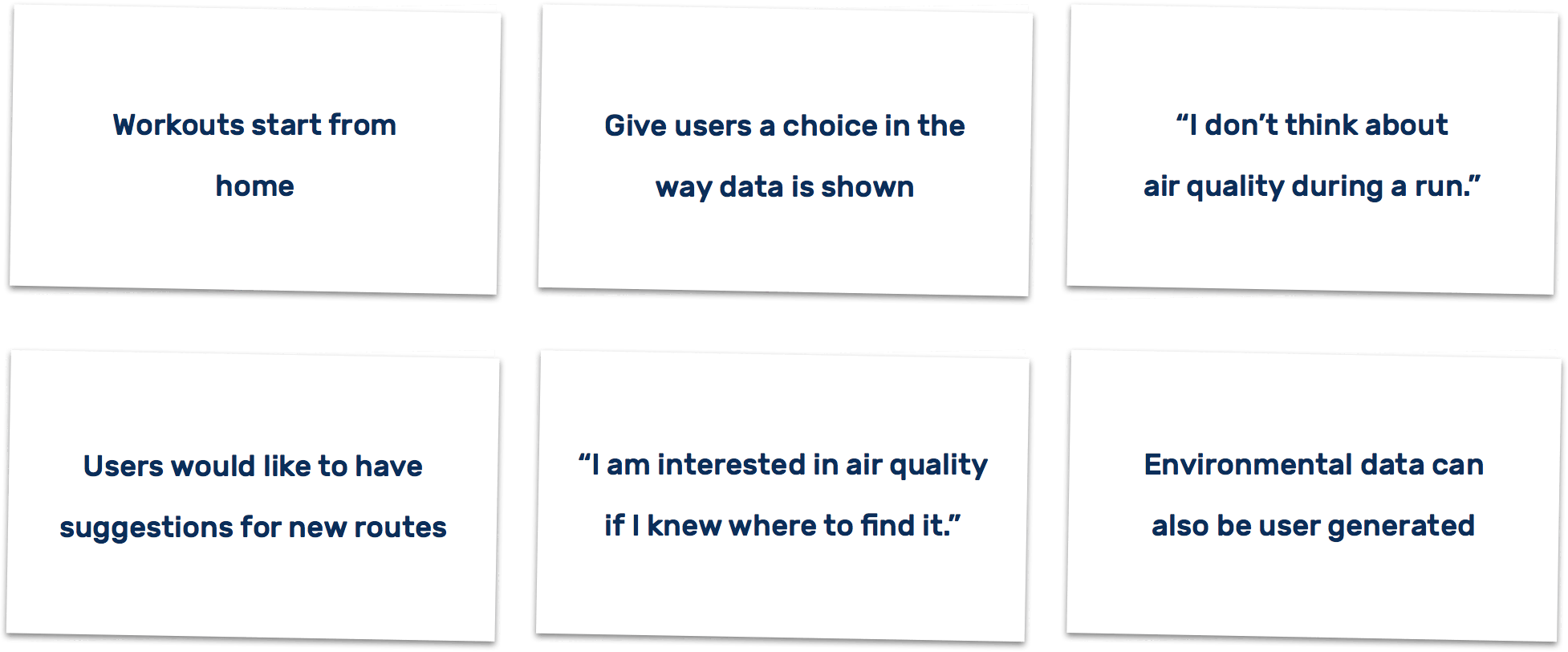 Exploring the user journeys
To explore as much of the possible solutions we chose to formulate three seperate directions for the concept tackling different needs of the users. So concepts focussing on influencing where, when and how to complete the outdoor activity. To make a decision which concepts suits the user the best we interviewed several users and discussed our insights with the client. Read the user stories of the concepts below. After validating them with the client and the users we chose the concept focussing on when to go for an activity. The most important reason is that the time aspect ensures significant differences in air quality, while the location based concept would not be able to show significant differences in advice.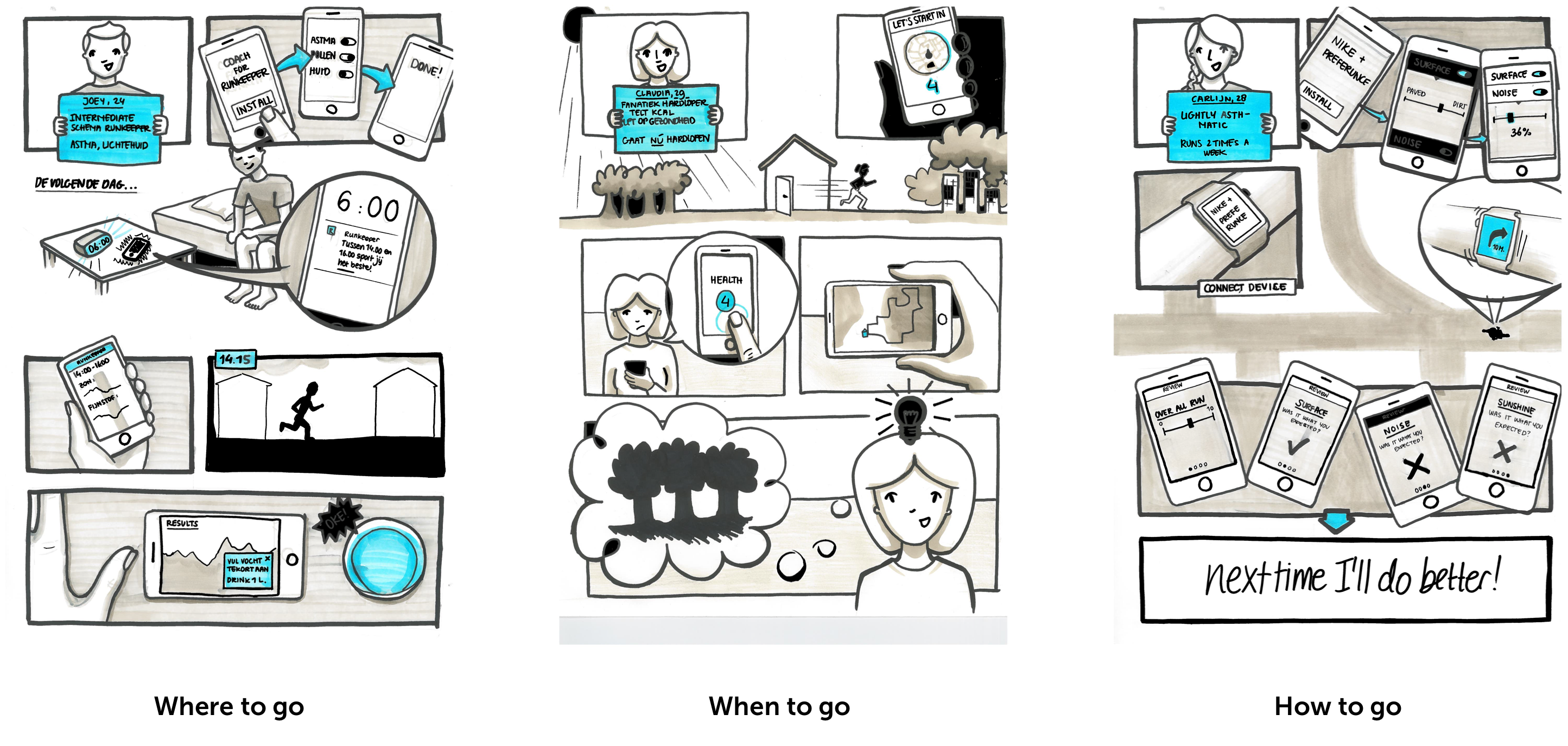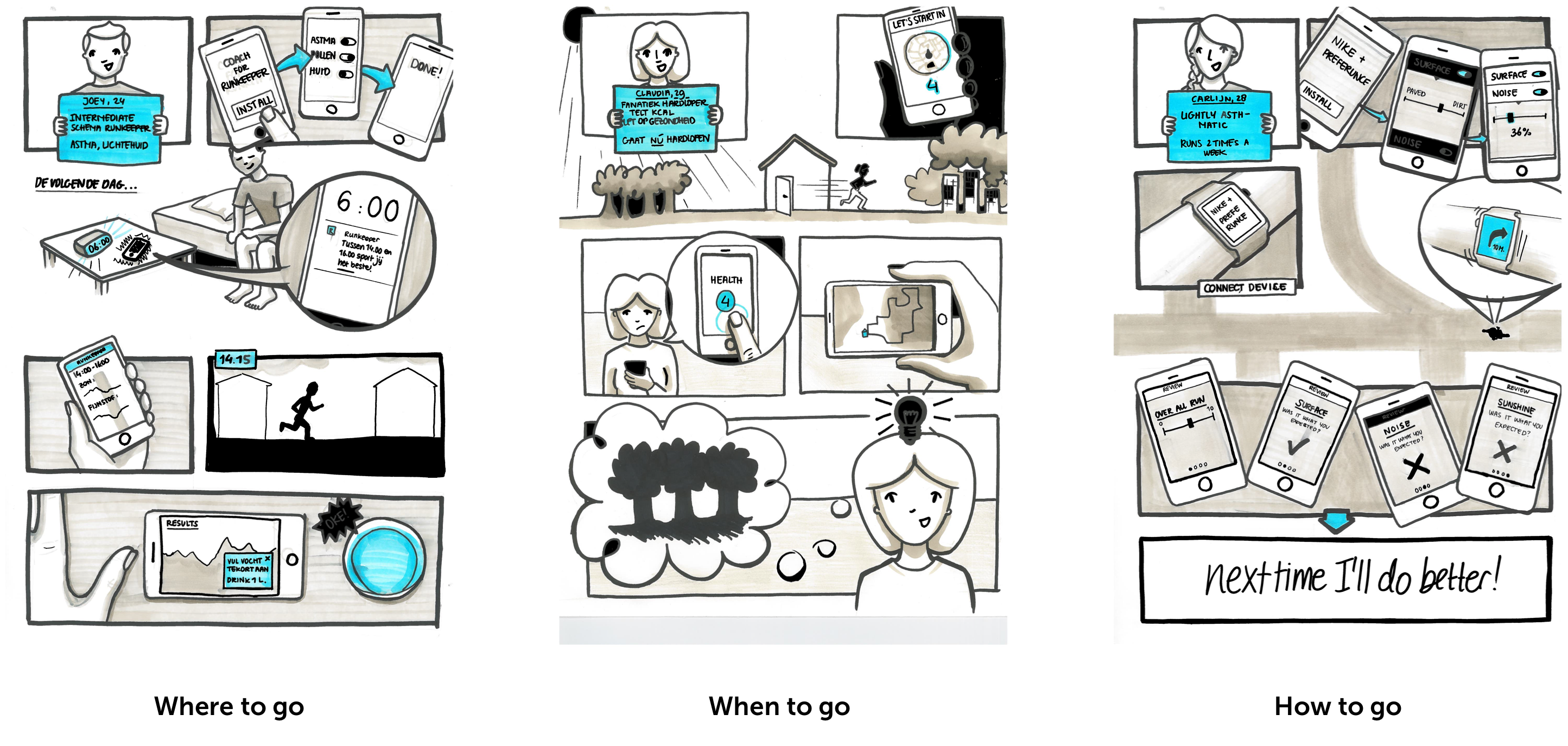 This concept is based on the need of users to start an activity from home. The function will be visible when the user has already decided to go for, for example a run. Beforehand the app gives you a direction to go to based on environmental data.
Based on Runkeeper's intake, this concept will help users plan their outdoor activities according to their individual schedule. For example, if you have a pollen allergy, this will be kept in mind while planning your outdoor activity.
This concept allows users to have a laid-back attitude towards environmental factors influencing their health and activity. You will receive a route based on your preferences and past runs from other users.
Who should we design for?
The key moment in the process was the realisation that we should design for an audience that is really affected by the most basal environmental data. Aspects like temperatures, humidity and air pollution do not influence the average people's breathing that much. However for a Asthmatic or anybody with lung issues it could trigger breathing problems. This is how we decided to focus our product on Asthmatic people. This choice and change of focus had a lot of impact on our concept, as well as our process. We needed to go back in to our research and replete this with more knowlegde about our target group and their disease.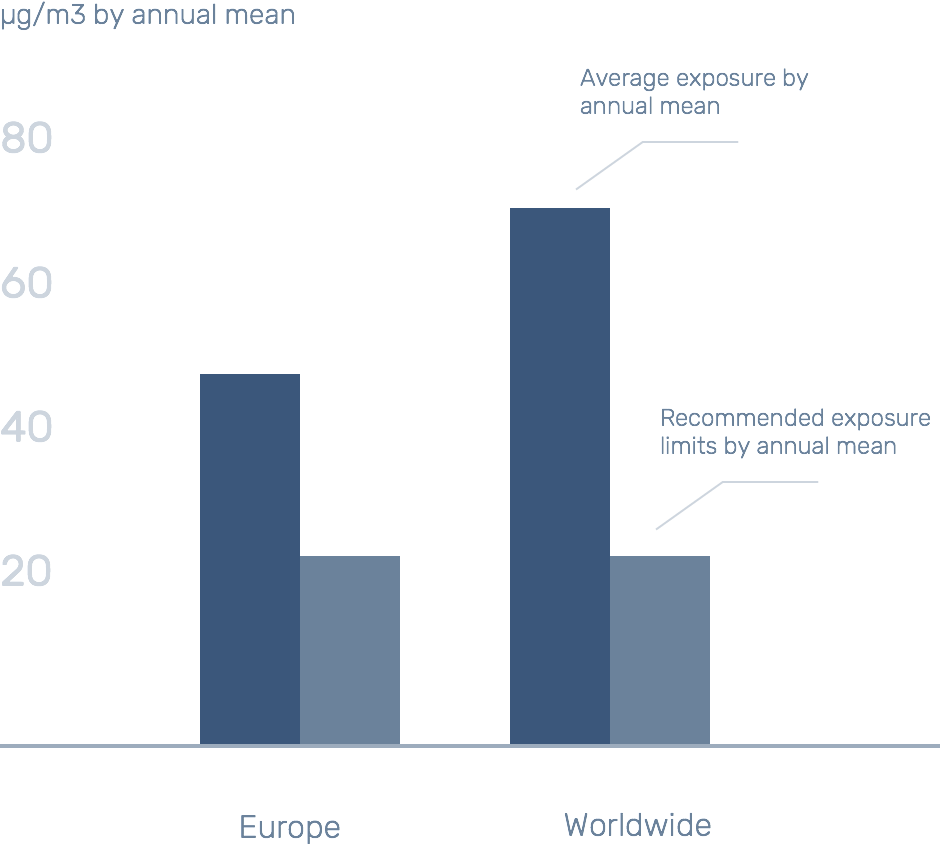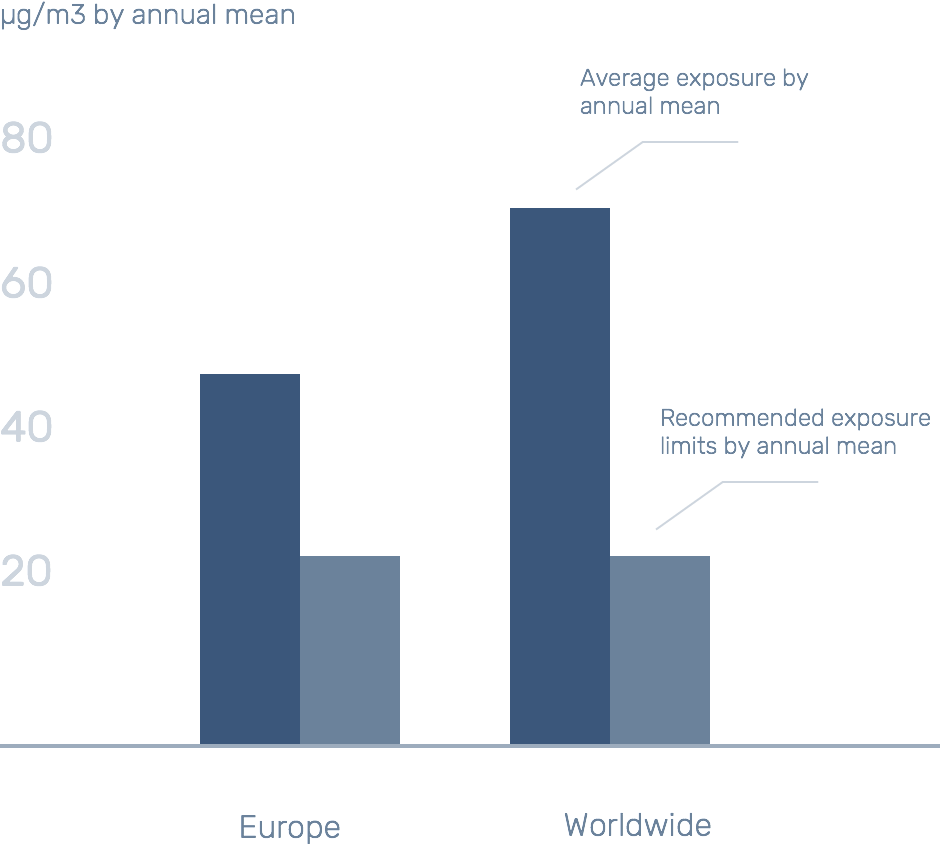 Because asthma is a disease with a lot of varieties, a different approach of environmental data was needed. We want each individual user to get the most out of our app, so we need to get to know each individual kind of asthma.
So, to compose an accurate and personal index based on the individual user, we defined a formula in which we consider the completed intake and the current data. Besides the general limits, which apply to everyone, the formula formulates personal limits for each aspect. There is for example an recommended limit of PM10 exposure of pollution for everyone, but when the user is more sensitive the limit will be adjusted.
* Data from World Health Organisation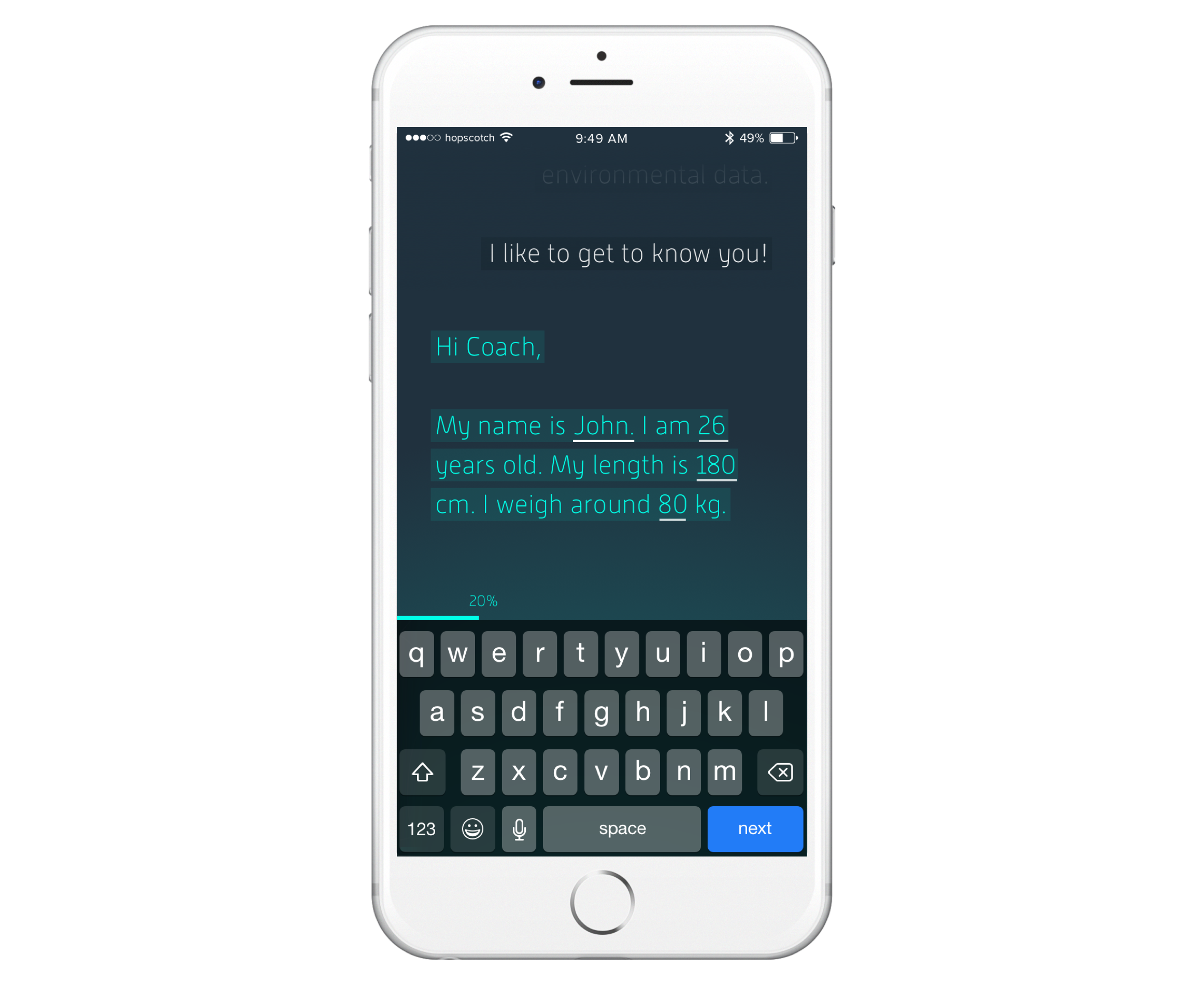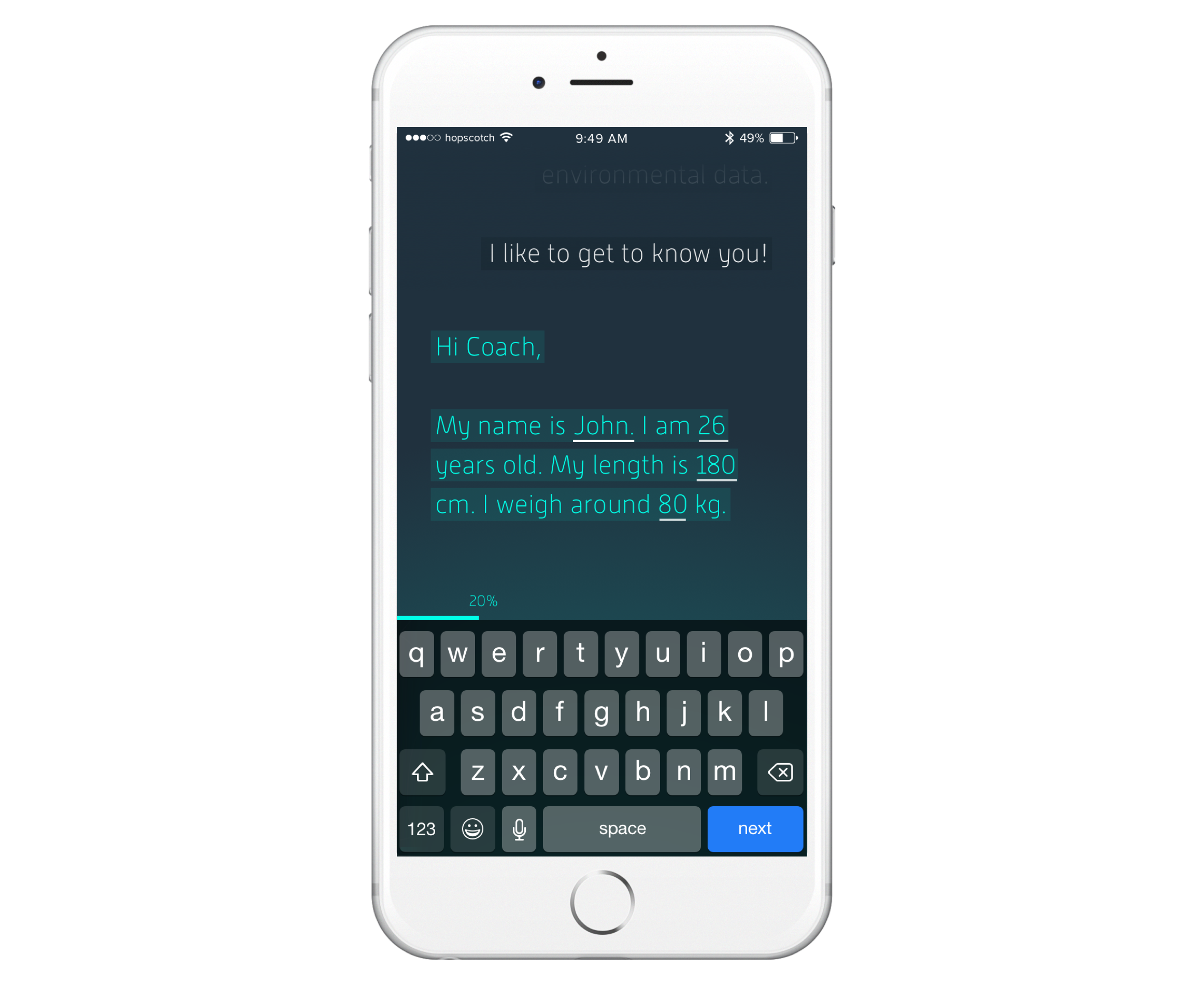 Getting to know each other
To give Coach more meaning we chose to approach the user onboarding from a different perspective. With a chat we encourage the user to get introduced with Coach in a personal way. Also it feels more positive when talking about the aspects Coach should consider while finding the best running moments.
As an Interaction Designer I had a part in trying to make the intake as fluent as possible. With the trend of Conversatonial Design coming up, we figured this would be a great way to engage the user to our service from the first moment.